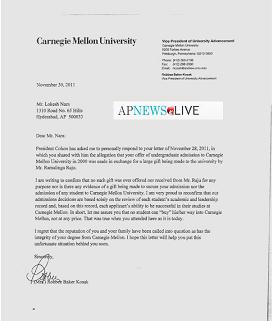 AP News Live exclusive
'Nara Lokesh was a mediocre student and hence would not have secured a seat in leading American Universities without paying a donation to them' was the allegation in Smt Vijaya's petition against Chandrababu Naidu and others. In an earlier post, AP News Live provided Intermediate Marks Sheet which cleared the percentage controversy as well as doubts about US education expenses.
The YSR Congress leader made a specific allegation that donations were made to the two universities where Lokesh studied in the US. Smt Vijaya charged that donations to the tune of Rs.1o crore to Carnegie Mellon and Rs.12 crore to Stanford University were made by unknown persons, hinting that these monies were paid to facilitate admission for Lokesh into them. It was also suggested that Satyam Ramalinga Raju might have paid this amount for the sake of Lokesh.
The following is the extract from Smt Vijaya's petition against Nara Lokesh:
" Sri.Nara Lokesh, the only son of Sri.Naidu studied in Hyderabad upto his intermediate education. He was a mediocre student and never had any scholarships to his credit, finally clearing his Science stream at the intermediate stage with just over 50%. However, Sri.Lokesh obtained his Bachelors Degree (1997-2000) from the prestigious Carnegie Mellon University and his Masters (2000-2002) from Stanford University in the USA. As Sri.Lokesh did not have the necessary grades, it was necessary for large endowments to be made to the Universities to consider him for admission. The amounts that were donated from unknown Indian sources were Rs.1o crore to Carnegie Mellon and Rs.12 crore to Stanford. There is reason to believe that these payments came from the accounts of Satyam's Sri.Ramalinga Raju in return for the various benefits offered to him."
AP News Live is in posssesion of the letter written by the Vice President of the prestigious Carnegie Mellon Univeristy Mrs Robbie Baker Kosak clarifying the allegation that Lokesh's admission was made 'in exchange for a large gift being made to the university by Ramalinga Raju'.
"I am writing to confirm that no such gift was ever offered nor received from Mr Raju for any purpose nor is there any evidence of a gift being made to secure your admission nor the admission of any student to the Carnegie Mellon University," the Vice President said in a letter written dated  November 30, 2011.
"I regret that the reputation of you and your family have been called into question as has the integrity of your degree from Carnegie Mellon. I hope this letter will help you put this unfortunate situation behind you soon," the letter written in response to a request by Lokesh stated.
Lokesh had earlier written to Carnegie Mellon University for an official communication that no alleged donations were made to the University and requested to help not only "to clear the name of my family, but also of the University".
This document being produced exclusively by AP News Live below puts at rest that the allegations of donations being paid for Lokesh's education have no basis.
Here is the letter written by Carnegie Mellon University to clear Lokesh's name in view of the allegations against him.