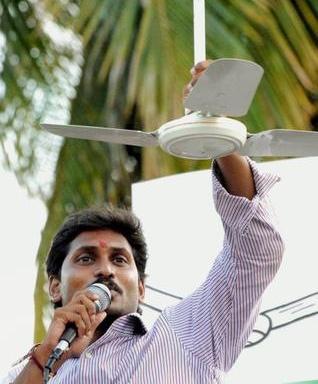 YSR Congress Party may not get its election symbol Ceiling Fan. The Election Commission of India reportedly informed the party of the decision. The EC was responding to the party's plea to allot the Fan symbol for the Tirupati by-election.
The EC said that it might not be possible to allot the same symbol. YSR Congress Party is learned to have decided to approach the courts against the decision.
Jagan Party won three elections till now – Pulivendula Assembly, Kadapa Parliament and Kovur Assembly – on Fan symbol. Jagan worked hard to take the symbol to the remotest corners of villages and he appeared to have succeeded going by the party's success in all the recent elections.
If the party were to be recognized by the Election Commission of India, YSR Congress will get a permanent election symbol. YSR Congress is trying to get Fan as the regular symbol, but it is to be seen whether EC will grant the party's wish.
Party sources however say that ceiling fan might be difficult to get only for Tirupati, and not for the other 17 seats, where sitting MLAs are in the race.
Meanwhile, observers feel that even if Ceiling Fan symbol is not allotted to the party in the ensuing by-polls, the party will be able to popularize any new symbol given the following of the party among the masses.