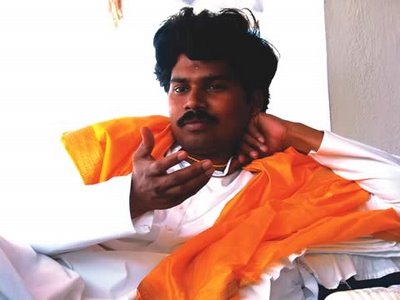 Controversial godman from Penukonda in Anantapur district Kaleshwar Baba passed away on Thursday in a Bangaluru hospital. The Baba is said to have been suffering from a serious liver and  kidney ailment for some time now and was admitted to Columbia Hospital, where he breathed his last after all vital organs stopped functioning.
He is just 38 and got married recently. His followers include Minister Raghuveera Reddy. TV5 channel chairman B R Naidu is a close confidant of the Baba.
Kaleshwar Baba, who originally hails from Kadapa district, has been in the news continually for the last many years over a slew of allegations of grabbing government land. He was also facing charges after he allegedly built a huge palace and multi-storied buildings after laying hands on the hidden treasures of Vijayanagara rulers 10 years ago.
There are also allegations that he had encroached the Vijayanagara fort and illegally raised structures there. There were also charges that he was helped by district officials and politicians in this exercise.
Kaleshwar's ashram at Penukonda, the summer capital of Vijayanagara Kings, was always buzzing with foreign devotees. Though Kaleshwar had neither a spiritual presence nor ancient wisdom, he was somehow able to attract devotees from far and wide. He claimed to be a follower of Shirdi Sai Baba.
Though he had a village background and completed only his Intermediate before claiming divine powers, Kaleshwar seems to have managed to pick up some English, in which he used to give sermons to the foreign devotees. The popularity of the Baba can be gauged by the fact that the website dedicated to him http://www.kaleshwar.org/en/index is available in German, Japanese and Czech besides English. You can watch the video below made by the ashram.
Here is another video report telecast by TV 5 in March 2010. Here the Baba actually spoke to the anchor about the police raids on his ashram. Look at how he talks incoherently, claiming that he was a great writer and a spiritual heir to Shirdi Baba. He also advises the press against defaming him. But what comes across in the video is the fact that the so-called Baba is not a man of great wisdom and erudition.