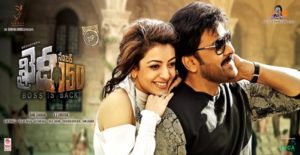 Two audio songs of the much awaited Khaidi No. 150 of Chiranjeevi have been released to expected mega response. While the first one 'Ammadu Let's do Kummudu' song has already notched up more than 50 lakh views in just a week, the second song 'Sundari', released only 24 hours ago, is already touching a million (10 lakh views).
The response in terms of views is of course good. But, clearly Devisri Prasad's magic is missing in these songs. There is a lot of good beat in these two songs, but they somehow fail to connect the way DSP's tunes tend to mesmerize. The lyrics themselves suck, and seem to have been written to fit the tune as well to appeal to the base tastes of so-called fans.
Even the die-hard fans did not miss the lack of 'something' in DSP's music in these two songs. While one fan said 'Magic is missing', another wryly remarked that 'DSP is testing audience patience', and yet another blurted, 'DSP sucks, and only Megastar saving grace'!
But of course, one could expect some great dance movements on the part of the Chiranjeevi when the video part is released that would make the fans go gaga. However, one thing is clear is that if you expect anything more than a masala mass entertainer with some raunchy dialogues, hyped up dance steps and over-the-top heroism, you will be disappointed with Khaidi No. 150!
Watch the songs here: