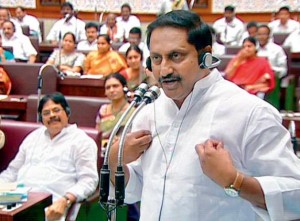 Chief Minister Kiran Kumar Reddy has carried a wish list to Delhi, but he did not get any favorable response. The following is said to be his wish list:
1. To cut PCC chief Bocha Satyanarayana to size. Kiran reportedly was armed with solid evidence to tell the high command Bocha family's role in liquor business which he said considerably damaged the government's reputation. Bocha is also continuing as Minister while being PCC which is against the party rules.
2. To remove Dr P Shankar Rao, Textiles Minister, from the cabinet as he proved to be an embarrassment to the government time and again.
3. To get high command's approval for cabinet reshuffle so that he can send some of the defiant Minister like D L Ravindra Reddy packing and getting some others of his choice included, forming finally a 'Kiran cabinet'.
However, Kiran has not been able to prevail upon the high command to concede to any of his demands in his wish list. Delhi sources say that inclusion of a couple of PRP MLAs in the cabinet is the only move that Azad and Ahmad Patel gave their green signal to.
But since Kiran was more interested in cabinet reshuffle, the entire exercise has been put in abeyance by high command. That means Chiru's PRP MLAs will have a wait a little longer to get their berths!