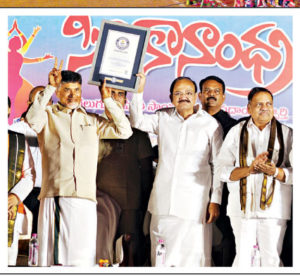 An array of 6,117 performers created a new Guinness World Record in Vijayawada on Sunday for the largest Kuchipudi dance on the final day of International Kuchipudi Convention. The record-creating entry is "Jayamu Jayamu," a Vempati Chinna Satyam composition, which was presented in unison. The certificate for the feat was handed over to Chief Minister Chandrababu Naidu by Guinness adjudicator Rishinath. Dancers from across the country were joined by those from U.S., Dubai, U.K., Russia, Hong Kong and Mauritius.
In an apparent bid to look 'traditional' on the occasion, Naidu wore a silk dhoti in the Tamil style in place of his usual trousers.
Controversy
Meanwhile, a controversy arose over the use of "Jayamu Jayamu" for the feat. A family member of Vempati Chinna Satyam served notices on Kuchibhotla Anand for using "Mastaru's composition" without obtaining required permissions. Kuchipudi stalwart Chinna Satyam's son Venkat Vempati told The Hindu, "Anand Kuchibhotla is using Mastaru's composition. We served a notice to him in this regard."
He also claimed that he had written several letters in the past to the CM on the irregularities in the Kuchipudi Natyaramam project, sponsored by the State Government. "The government brought a person, who is neither a Kuchipudi dancer nor has expertise in the art, to the fore. Hardly anything has been done by him for promotion of art and artists," he alleged. There were also allegations of financial irregularities regarding the convention.
While the State government released Rs.1 crore for the three-day event, the organisers collected Rs.1,000 each as "registration fee" from over 5,000 participants. As many as 7,000 delegates from India and abroad are taking part in the event. And all the arrangements were made by the State Government with Krishna District Collector A Babu supervising them.