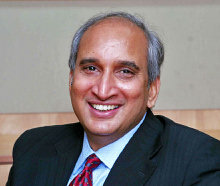 After Vijaya Sai Reddy, who? That is the question doing the rounds political, non-political and business and social circles in the state.
The likes of V Hanumanth rao or DL Ravindra Reddy may want that Jagan, being the first accused in the case, should be behind bars.
But sources in the know of developments say that a couple of businessman who invested heavily in Jagan's various companies might be staring next at CBI dragnet. One of these obviously could be Nimmagadda Prasad, better known as Matrix Prasad.
The tycoon, who effortlessly moved from pharmaceuticals to cement, ports, media, television and health sectors, is most likely to turn out to be the man that CBI may like to book.
Prasad came under the CBI scanner for investing in the Sakshi Media House and Bharati Cements owned by Mr Jagan Mohan Reddy. In fact, Prasad emerged as the biggest investor in Jagan's companies. He has so far invested a total of Rs 450 crore in Jagathi Publications and currently sits on the board of Sakshi.
CBI suspects that the serial entrepreneur had invested huge sums only as a quid pro quo for allotment of over 15,000 acres for development of port infrastructure on the east coast of Andhra Pradesh. His office were earlier searched by CBI sleuths and Prasad was also quizzed on his investments.
The other business house in the line of fire are  Aurobindo Pharma, India Cements, Dalmia Bharat, Navabharat Ventures, PVP Ventures and Ramky group, who are among those named in the FIR by the CBI in the list of accused.