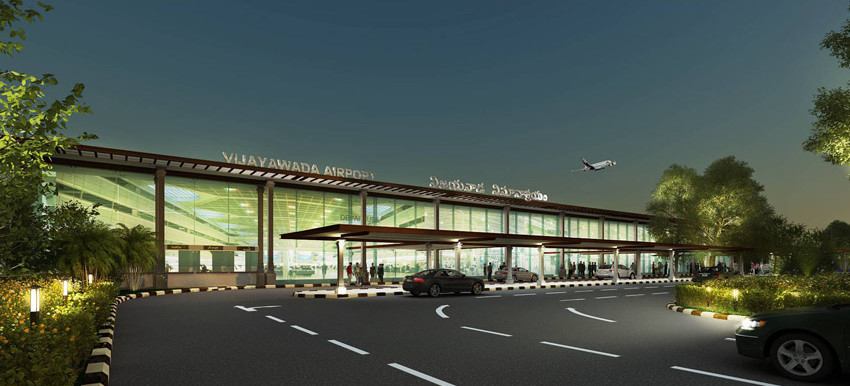 The new terminal at the Gannavaram airport, inaugurated by Chief Minister Chandrababu Naidu on Thursday, is likely to boost the already increasing air traffic to Vijayawada.
The terminal, was constructed in a short period of around a year, is only an interim terminal before the International one is built. It was developed at a cost of about Rs. 135 crore. Its capacity increased from 100 PHP (Peak Hour Passengers) to 500 PHP and has a runway 2,286 metres or 7500 feet.
The terminal could handle 20 lakh passengers per annum and would be sufficient for passenger needs for the next four-five years.
Chandrababu Naidu has plans to make the airport, which he wants to name as NTR Airport @ Amaravati, into a truly international one in phases. Earlier, he toyed with the idea of a having a separate international airport for the new capital.
However, issues such as land acquisition in Guntur-Krishna districts put paid to his plans. Now that Gannavaram is the only airport for Amaravati, the CM is closely monitoring its rapid development.
Chandrababu wants to build in the next phase a state-of-the-art permanent terminal building that will cater to 50 lakh passengers per annum.
Bhoomi puja for the runway expansion works, being taken up at a cost of Rs 150 crore, was also conducted on the occasion. Once the runway expansion is completed, larger aircraft like Boeing 747 can land here.
Though the terminal was inaugurated, the actual operations will start from February, according to Airport officials.
The tax on Aviation Turbine Fuel (ATF) had been reduced to 1 per cent in AP to help promote the civil aviation sector in a big way.
The airport currently handled about 4.5 lakh domestic passengers and 8,342 domestic aircraft movements for April-November 2016. The growth in passengers and aircraft movements was about 76 per cent and 86 per cent.
Civil Aviation Minister P Ashok Gajapathi Raju said a day would come when the world's largest cargo airline FedEx could land its biggest aircraft carrying as much as 105 tonnes of goods at the fledgling Vijayawada airport.
Meanwhile, the Chief Minister also wanted the Civil Aviation Ministry to change the location of the proposed greenfield airport in SPS Nellore district from Dagadarthi to Krishnapatnam.