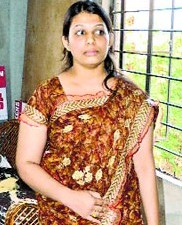 By Ramesh Kandula
The Tara Chowdary case, reported widely in the electronic media, provides a little insight into how our news channels operate.
The Tara episode and the inquisitorial manner in which it was treated by the channels is by no means an accurate mirror of the depths to which our reporting has plunged. But the inconsiderate, loose and voyeuristic stories told about the lady are certainly an indicator of the complete lack of accountability, empathy and sensitivity on the part of the news peddlers.
The way news channels have glibly made up juicy details -in a no-holds-barred peep show – on Tara Chowdary, many of them without the least shred of evidence, is not surprising. A good looking woman and a failed starlet at that, turning to sex trade and luring the gullible as well as the well-connected is a tantalizing TRP proposition that few pretentious channels would let go without making the most of.
But the amount of amplification, exaggeration and slanderous attribution that went into making up the stories on the lady is amazing.
What is the dry fact? Tara Chowdary, alias Rajeswari, was taken into custody on a compliant that she had allegedly forced a Vizag-based girl into prostitution. Period.
The only other fact that would probably go with this piece of info is that she earlier figured in the news in one case of immoral trafficking, a complaint against an SI in Guntur and a fracas with film writer Chinni Krishna.
But look at how our channels have weaved the most salacious story you ever wanted to hear on sex and city.
Tara Chowdary has a network of brothels spread far and wide.
She spread her tentacles across to lure VIP clients.
She cheated young girls into sex trade.
She had contacts with bigwigs.
MPs and political leaders were her clients.
Top businessmen too were her regular customers.
Tara was shooting the sex acts by installing spy cams..
She blackmailed politicians threatening to expose their sexapades
The brothel madam collected Rs 25 lakh from an MP (?)
She has connections with underground mafia
She gave a supari to kill a businessman from Kurnool
Going by the enormity of these sexually arousing, secretly titillating, admittedly perverse narratives, one would conclude that Tara Chowdary must be the most corrupting influence on our otherwise celibate society.
Surprisingly, none of the above charges, which are nothing but plain insinuations, is neither qualified nor corroborated. The masala package is invariably taunting and mocking in its tone. A sense of self-righteousness pervades the presentation. These are no mere allegations, according to the channels. These are all facts, in black and white.
Every one of these charges is attributed to the police, but the cops never say a word on record. They would provide no evidence to corroborate the charges.
Repeatedly showing the visuals of the  poor lady standing in Banjara Hills Police Station with a voice-over on TV calling her a slut and a whore and a trafficker and blackmailer and what have you, the channels make merry with her body.
That looks more like news pimping than reporting.
The cops continue to play dumb. You would never know what happens to the case subsequently. As channels go in search of another TRP-boosting story, the police would have got what they wanted. And Tara Chowdary would go back to her molested world, picking up the pieces of life, or whatever was left of it by the media and the cops.