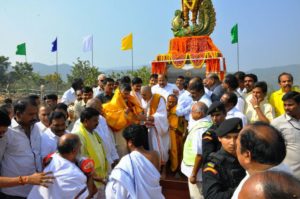 The spillway works on the multi-purpose Polavaram hydel project today got under way in the presence of Andhra Pradesh Chief Minister N Chandrababu Naidu.
After the concrete works begin, it is proposed to take up diaphragm wall works early next month. Chandrababu Naidu is keen that the decades long pending project gets completed by 2018-19.
The Chief Minister earlier this week was handed over Nabarad approved funding of Rs 1,981 crore for the project. An enthused Naidu, who has been reviewing the progress of the project on a weekly basis till recently, is keen that works should be executed in all earnest
State-of-the-art truck-mounted telescopic belt conveyor are being used to put concrete on the Polavaram spillway. Three ready-mix concrete plants, with the capacity to produce 240 cubic metres of concrete an hour without interruption, were being set up at the project set.
The Chief Minister participated in a special yagna. A puja was performed for the Telebelt, after which the Chief Minister started the conveyor belt to put the concrete in Block Number 3 of the spillway.
The Polavaram dam spillway will have the capacity to carry a flood of 50 lakh cusecs (spillway with the highest capacity in the world).
The project cost has shot up over the years to Rs 16,000 crore in 2011 and later estimated to be about Rs 36,000 crore.