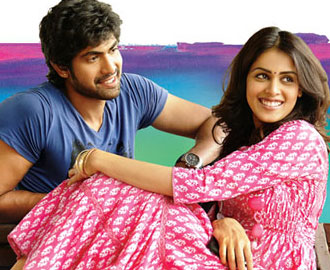 Fans will have an opportunity to watch Tollywood hunk Daggubati Rana moving a leg or two in his upcoming film Naa Ishtam. Rana has not had an opportunity to test his dancing skills in all his previous films because of the storyline.
But Naa Ishtam, Rana's self-confessed 'first commercial film', provided him ample chance to experiment with his moves to music director Chakri's beats.
"It was not easy to choreograph for me because of my height which is 6′ 3.5″. Besides, I have a very broad and muscular frame because of my training.  My choreographer Prem Shankar came up with some steps and moves that would suit me. We rehearsed and shot them. We finalized them once we were okay with them. I think we cracked what we could," Rana explained.
The tall scion from Ramanaidu stable is nursing lot of hopes with Naa Ishtam because it was first big summer release this year and because it was a regular romantic love story unlike his earlier ventures which were genre-based.
Genelia is playing a mellow character in the film, which is her real self, he tells us. His character in the film Ganesh, whose self-centered approach gets mauled by his love for the girl, is so much like his real self, Rana confessed. The film is all set to release on March 23.
He has also completed shooting for Department, the Hindi movie directed by Ram Gopal Varma. He did not feel it was  a Hindi film, as Varma would speak to him in Telugu most of the time on the sets, Rana revealed.
Rana will soon feature in a Tamil film to be directed by Selva Raghavan. Rana who is fluent in Tamil too says he would have completed one round in all the languages in which he is proficient.