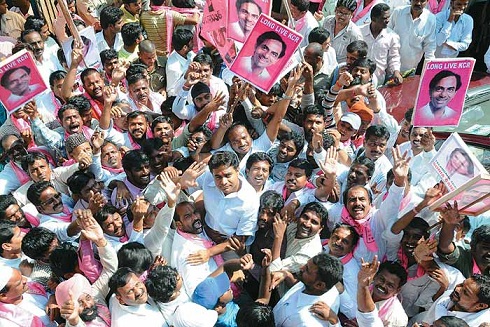 The TV9-Today Chanakya pre-poll survey gives a clear edge to TRS and YSR Congress Party in all the seats going for by-elections on March 18. The opinion polls conducted in the first week of March reveal that the TRS will romp home in all the five constituencies it is in contest.
The opinion poll results are on the expected lines, except for Kamareddy, where TRS candidate is not as far ahead of his nearest rival as his counterparts in other seats.
Nagam Janardhan Reddy is sprinting ahead in Nagarkurnool with 18 percent majority, while TRS candidates are expected to win with 15 percent more votes in Adilabad, Kollapur and Station Ghanpur.
Jogu Ramanna, Jupally Krishna Rao and Dr T Rajaiah are in the fray on behalf of TRS in the above three seats.
The Pink Party will have only slight edge in Kamareddy with 6 percent majority. Gampa Govardhan, who resigned from TDP to join TRS, is the candidate here.
In Mahabubnagar, where TRS is pitted against BJP, the former will have an edge of 9 percent votes. BJP is in second position in this constituency.
According to the forecast, YSR Congress candidate Nallapareddy Prasannakumar Reddy has a comfortable edge of 15 percent in Kovur.