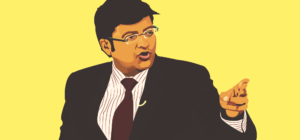 The nation has been waiting with bated breath to know everything about celebrity television anchor Arnab Goswami's new television venture Republic channel.
But interestingly, the man who is known for his garrulousness, has been quite reticent about his most ambitious venture. But finally, he has something to say to www.scoopwhoop.com.
The most interesting thing he said was about a big media house (Times Group?) threatening young journalists from joining his venture.
'Threats and attacks from a paranoid big media group, outsourced smear campaigns of a paranoid media group, intimidation and unfortunate statements like 'money wins', prove to me even more that there's a need for independent journalism. To this paranoid media group I am saying today: Bring it on,' Arnab said.
He also talked about corporatisation of media.
'Some of them have allowed their business executives to interfere in editorial processes. In the case of one big media group, I have information that business heads on a daily basis, openly and transparently, participate in editorial decision making,' he said.
By now people know that Arnab's public and personality are two different things. Admitting the same, he recollected this incident:
Recently I sat next to Sharad Pawar on a plane and then he asked me halfway through the flight 'Are you Arnab Goswami?'. I said, 'Yes I am'. And he seemed a bit surprised. He said he couldn't recognise me because of my shades. But I think it was more because I was quiet for 30 minutes. (laughs)
But Arnab did not answer the most waited answer. When will Republic launch? 'Soon' he said. He also did not reveal the sources of his funding, as yet.