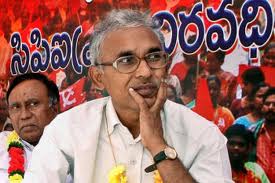 Relations between the comrades seem to have hit a new low. CPI and CPM, who keep talking about a merger periodically, have witnessed further deterioration in their camaraderie recently.
CPI Narayana was upset that CPM Raghavulu was playing spoilsport in his efforts to forge a combined alliance for the by-polls.
While Narayana wanted to support TDP in Andhra and Rayalaseema, Raghavulu put a spanner in the proposal and announced his party would go solo. An  angry Narayana accused CPM of harboring 'secret agenda' and took objection to Raghavulu dubbing TDP, Congress and YSR Congress as equally corrupt.
Raghavulu on Sunday lodged his protest against the CPI reaction by dashing off a letter to Narayana. The CPM leader said that the two communist parties have different attitude with regard to other parties. "Just because we are not prepared to go along with CPI on alliance with TDP, Narayana should not have made such innuendos about secret agenda", Raghavulu said in his letter.
While the two communist parties are indulging in verbal duels, the common people have not been able to understand what exactly is the problem between the two. What is CPM upto nowadays is also unclear.