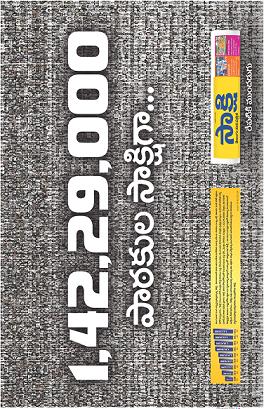 Sakshi paper has been shouting from its pages about the increase of its readership by leaps and bounds in the last quarter, while Eenadu, its bitter competitor, actually lost numbers in the same period.
Yes, that is true. But to put things in perspective, Eenadu is ahead of Sakshi in the overall readership figures. While the two Telugu newspapers figure among the Top 10 Language Dailies in the country, Eenadu is at 6th position and Sakshi at 7th.
By losing 1,10,000 readers in IRS Q4 2011, Eenadu has lost its No.5 position. Now at No. 6, it has recorded an All India Readership (AIR) of 59.91 lakh against 61.01 lakh in the last survey.
Sakshi has climbed up the rankings for the second quarter in a row to acquire the No. 7 position. After adding 1.13 lakh readers in the last survey, Sakshi has added 84,000 readers in IRS Q4 2011. Its current AIR stands at 53.03 lakh.
Average Issue Readership (AIR) of a publication is defined as the number of readers of that publication who have claimed to have last read it within its periodicity. This measure is considered to be a more relevant measure of 'real' or 'regular' readership.
These are the Top 10 Language Dailies (Non-Hindi)

1 Malayala Monorama  2 Lokmat  3 Daily Thanti  4 Matrubhumi  5 Ananda Bazar Patrika  6 Eenadu  7 Sakshi  8 Dinakaran  9 Gujarat Samachar  10 Daily Sakal