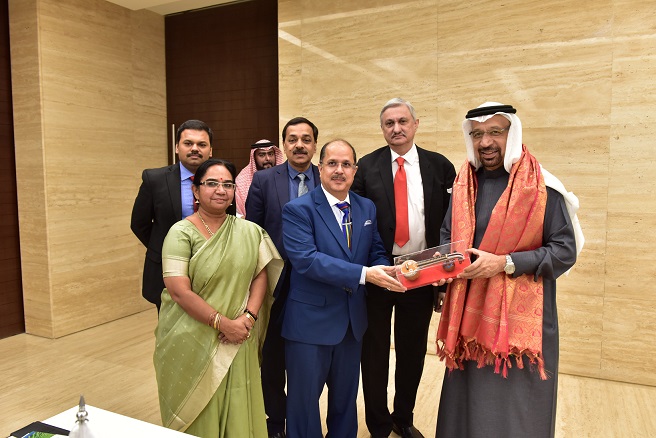 [responsivevoice_button voice="UK English Male" buttontext="Listen to Post"]
Have you heard of Zulfi Ravdjee? This mysterious person is Advisor to the Chief Minister and Andhra Pradesh Government's Special Representative for Middle-East and Far-East countries.
Not many people, even within the YSRC Party, seem to know who this gentleman is. But he is apparently so important that he was assigned a Cabinet Minister rank. Pay and allowances are being provided as per ministers in the state.
The government order (GO) for Zulfi Ravdjee's appointment was issued on 13 November 2019. According to the GO, he is the son of late Abdullah Ravdjee and is a resident of Road No 7, Banjara Hills, Hyderabad. His allowances include a car, laptop, furniture worth Rs 3 lakh, crockery and cutlery worth Rs 1.5 lakh, medical reimbursement on par with Ministers, one private secretary, one additional private secretary, one personal assistant, one jamedar, two drivers and three mobile phone connections.
What qualifies him to be an Advisor & Special Representative for Middle-East is not known. All the info that is available is that Zulfi Ravdjee is a 'pioneer in the field of construction' and has 30 years of experience in this field. His son, Zain Ravdjee, is the chairman and MD of ZR Renewable Energy Pvt Ltd.
It is probably for the first time for any government to have an exclusive special representative with cabinet rank for the middle-east and far-east countries. Though Kerala has a minister for Gulf affairs, the position is only for taking care of the welfare of the Malayalees who work in large numbers in the Gulf region. But to have a ministerial-level position for attracting investments in the middle-east and far-east is first of its kind for any state.
What has led the Jagan Mohan Reddy government to appoint a person with no connection whatsoever with Andhra Pradesh for attracting investments from countries like Saudi Arabia has not been explained by anyone in the YSRC government. And countries from the middle-east have little or no investment history in Andhra Pradesh.
Zulfi's name has come up in the latest press release by the state government. A high-level delegation from AP has been to Saudi Arabia from February 24 to 27 apparently to "attract FDIs in sectors like agriculture, food processing, pharmaceuticals, oil and petrochemicals and information technology." The delegation was led by Zulfi Ravdjee. The delegation met Bandar Al Khoarayef, Minister of Industry and Mineral Resources of Saudi Arabia and some business leaders.
Nothing concrete has come out of this high-level delegation which consisted of Dr Poonam Malakondaiah, Special Chief Secretary, Agriculture & Cooperation, AHDD&F Department, Dr Rajat Bhargava, Special Chief Secretary, Industries & Commerce and JVN Subramanyam, Director of Industries, Commerce & EP, CEO, APEDB. 
A PTI report quoted a top official of the delegation, saying "We will be following up on all investments that were negotiated during the previous Chandrababu Naidu regime. Many (of them) materialized but we have to take them to the logical end".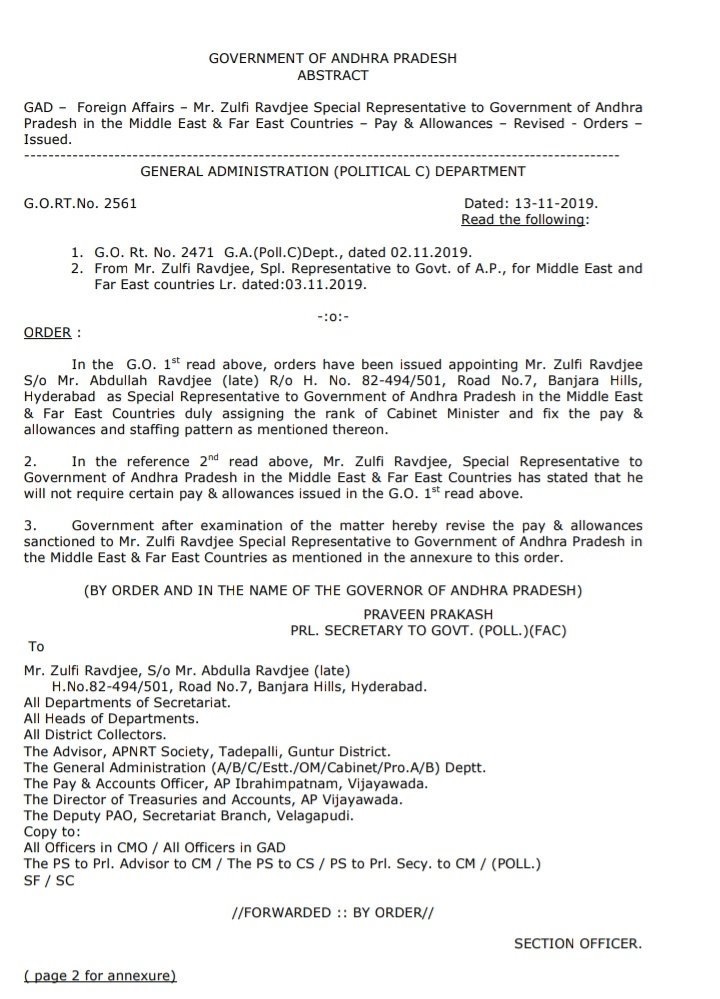 When one thinks of the current government's unusual interest in the middle eastern countries, Ras Al Khaimah, one of the seven emirates that make up the United Arab Emirates (UAE), might come to mind. Ras Al Khaimah, a small emirate of 4 lakh population, was a joint venture partner with Nimmagadda Prasad in the Vodarevu-Nizampatnam Port and Industrial Corridor (Vanpic) project. Vanpic is now a part of the CBI cases being pursued against Jagan Mohan Reddy. On a complaint by Ras Al Khaimah, Nimmagadda Prasad was taken into custody in Belgrade, capital of Serbia, in August 2019.
The YSRC MPs under the leadership of Viajaysai Reddy made a representation to the Centre to rescue Nimmagadda Prasad, but there has been no progress in the case. Prasad has been languishing in Belgrade jail for the last six months, and apparently the YSRC Party leaders are worried.
It is not known whether the appointment of Zulfi Ravdjee as Advisor and Special Representative to the Middle East has anything to do with this case.